Project objectives and goals
The objective of UNIDO/GEF/Ministry of Natural Resources and Environment Project No. GF/RUS/11/001 «Phase-out of HCFCs and Promotion of HFC-Free Refrigeration and Air-Conditioning Systems in the Russian Federation through Technology Transfer» is to assist the Russian Federation to fulfill its commitments the Montreal Protocol on Substances that Deplete the Ozone Layer.
The primary goal of the Project is the direct phase out of hydrochlorofluorocarbons (mainly: HCFC-21, HCFC-22, HCFC-141b, and HCFC-142b) in the amount of about 600 tons of ozone depleting potential in foam production and refrigeration equipment manufacturing sectors in order to reach by 2015 the target set by the Montreal Protocol. Considering the fact that HCFCs are also powerful greenhouse gases, such phase out will also allow decreasing greenhouse gas emissions by 15.6 mln mt of CO 2 equivalent.
The secondary goal of the Project is transfer of innovative technologies within the framework of modernization of industrial enterprises using HCFCs in their process operations and those producing polyurethane insulation (pre-insulated pipes, sandwich panels), household, medical, commercial, and industrial refrigerating equipment, as well as of enterprises performing repair and servicing of HVAC&R equipment. Implementation of such measures would allow for further decrease of green-house gas emissions by about 10 mln mt of CO 2 equivalent during 5 years at the account of decreased energy consumption.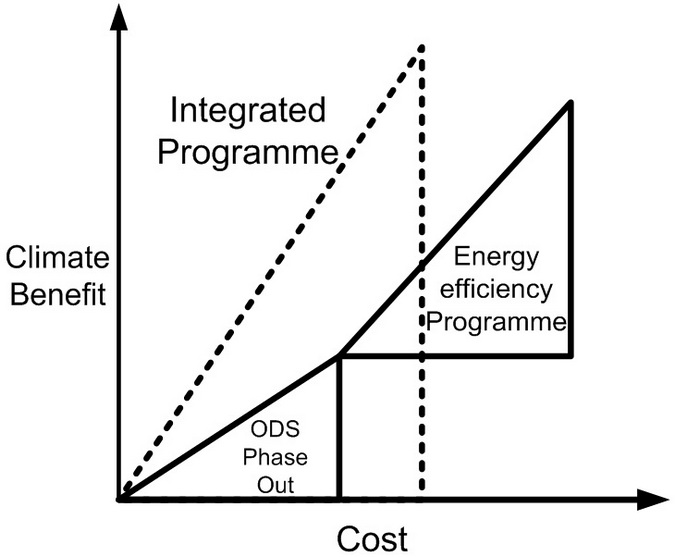 Effect of combination of HCFCs phase out activities with improving of energy efficiency is much higher than in case of implementation of two programs
---