16.10.2013 - Conference "Natural refrigerant ammonia. Chemical and technical security of the Russian Federation"
←
Back
Russia witnesses the return of ammonia to the big refrigeration.
On October 16, conference "Natural refrigerant ammonia. Chemical and technical security of the Russian Federation" took place in Moscow. The conference was organized by the Ministry of Natural Resources and Ecology of the Russian Federation, UNIDO, and Global Environmental Facility and attended by more than 100 representatives of Russian ministries, trade associations, research institutes, large public and private users of refrigerating systems, Russian and foreign producers of natural refrigerant-based systems.
As many other parties to the Montreal protocol, Russia is phasing out HCFC and, by 2015 the country is expected to reduce their consumption by 90%. HCFC-22 was one of very few refrigerants produced in the country. What's next? Stake on HFC which will likely be covered by the Montreal Protocol? Use expensive refrigerants which are not and will never be even planned for production in Russia? Extend nationwide use of natural refrigerants which Russia produces and which will ensure its technical safety?
The conference participants supported the idea of developing systems based on natural refrigerants, and the refrigerant of choice of the industry is ammonia. Although Russian ammonia regulations and lack of any measures on the HFC use are seriously constraining the proliferation of this efficient natural refrigerant, the government is working to overcome these barriers.
The conference resulted in a resolution which, in particular, recommended state structures to intensify efforts on development of government programs related to the use of ammonia and other natural refrigerants; revise safety, technical and legal regulations to expand the scope of ammonia use; accelerate harmonization of the Russian legal framework regulating the refrigerant use with the European one; elaborate standards of qualification and education, system for certification of technicians, and Russian version of the F-gas regulation.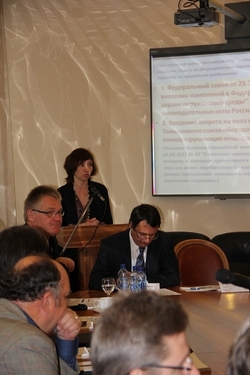 The conference was attended by representatives of federal bodies (the Ministry of Natural Resources and Environment, Ministry of Industry and Trade, Federal Service for Environmental, Technological and Nuclear Supervision, Moscow Department for Labor and Employment), trade organizations (Association of Professionals in the Industry of Climate, Russian union of refrigeration industry), international experts (UNIDO, Euroammon), representatives of end-users from the fishing, meat processing and other industries. The conference proved interesting for representatives of Russian and foreign companies engaged in use or production of refrigerants: Akvalinks, Baltimore Aircoil, Bitzer CIS, VNIINEFTEMASH, VNIIKHOLODMASH-HOLDING, GEA Refrigeration RUS, Danfoss, Johnson Controls, Interkhimkholod, Kreovent, Lisbor, MARKON-KHOLOD, OK, Ostrov-Komplekt, Podolsktorgtechnika, Remklimat, OTsR Technology, TEKO GmbH, Tekhanaliz, Transcool.RUS, OLEKS HOLDING-M, KHIMKHOLODSERVIS, KHOLTEK. R&D, educational and trade publishing sectors were represented by Atmosphere research institute, VNIKHI, Sechenov First State Medical University, Razumovsky State University of Technology and Management, Professional training center, Krzhizhanovsky Energy Institute, and some others.
Presentations and resolution of the conference are available at the HCFC phase out in Russia project website.
To join the ammonia proliferation in Russia, feel free to contact Artem Kushnerev, conference coordinator: A.KUSHNEREV@unido.org
Photo gallery
At the entrance, there are graffiti of the conference participants and exhibition of winning works of Protect the Ozone Layer and Earth Climate competition.
The law on use of ozone depleting substances and greenhouse gases will be tightened, and that on ammonia and other natural refrigerants, be harmonized with EC ones. Standards of qualification and education, and system for certification of technicians will be elaborated.
Ammonia in the center of Berlin In the Zurich airport In sports facilities of the USA In the Chinese state support programs We strongly believe that all this will come to Russia soon.